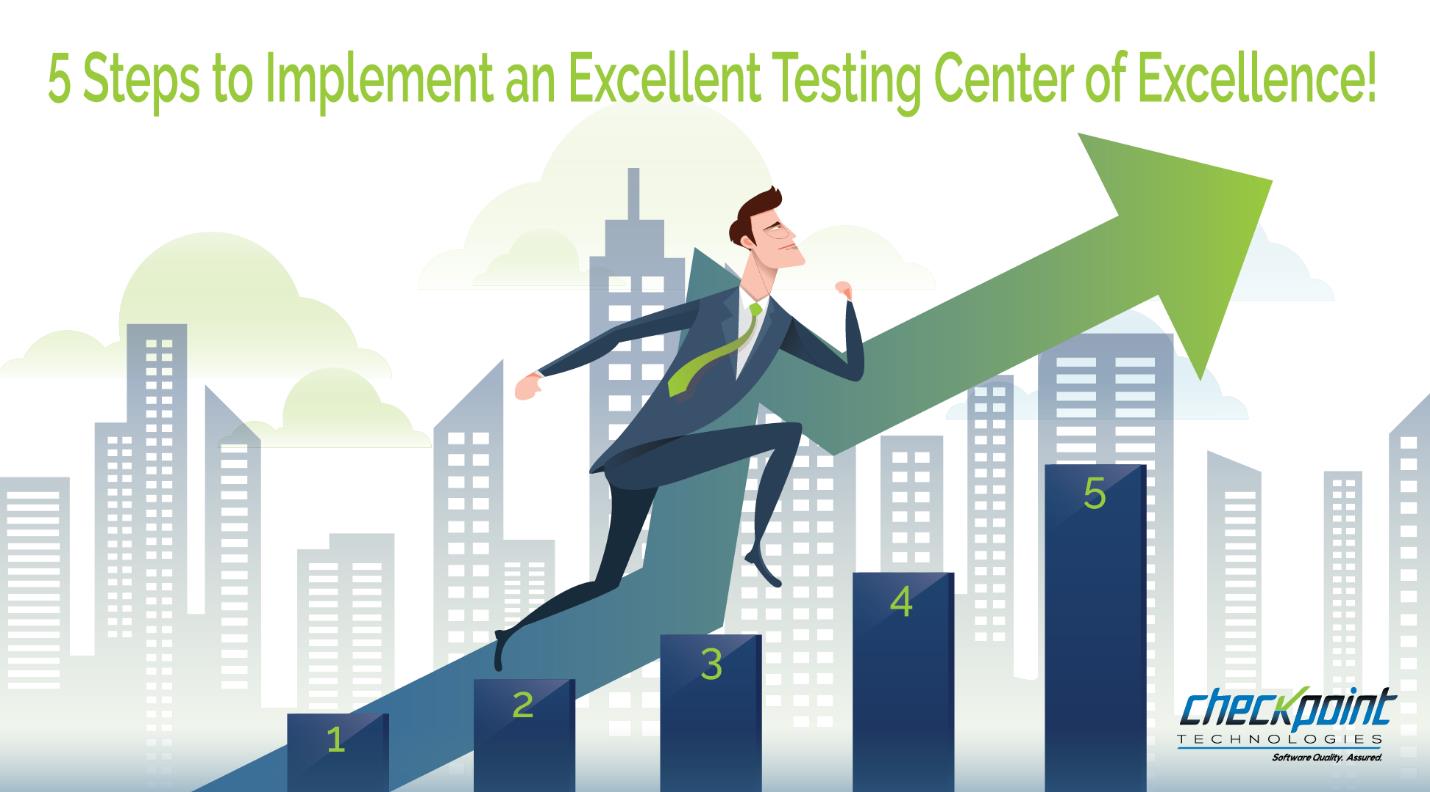 24 Jun

5 Steps to Implement an Excellent Testing Center of Excellence!

The following is a blog based on a previous the Quality in a Quick video episode "Creating a Testing Center of Excellence".

One of the most common requests our organization receives is to assess organizations quality assurance and quality control (software testing) efforts – people, processes, and technologies – with a key deliverable being a roadmap and plan to design, develop, and/or implement an Excellent Testing Center of Excellence (TCoE). Before I share five proven steps to implement such a TCoE I'd like to cover the definition to ensure we're all "on the same page".

First, the definition. A TCoE governs how a testing organization engages and delivers testing services to the larger enterprise.  It's a strategic framework comprised of:
Established goals (meaning they're understood, agreed upon, and documented)
Well defined processes (Clear, unambiguous, and quantifiable)
A governance mechanism (Processes which support each other)
Multi-discipline skillsets (You need a team with a diverse set of skills, expertise and experience)
Common tools and technologies (Software and strategies.  What do you have?  What will you need to acquire?)
The benefits of a TCoE? Several. It eases the effort for teams to evolve existing testing services, thus making them more agile and able to offer new services with higher quality. It promotes a culture of quality and enhances delivery confidence within the organization thus boosting morale. Always a good thing! It leads to faster time to market adding to the ability of your organization to be more competitive. And it decreases and optimizes cost and creates tighter alignment within the organization.
A few of the challenges when implementing a testing center of excellence:
It can often be an "uphill battle" to obtain organizational commitment and it is most definitely a commitment!
It's a significant investment in time, effort, and money.
Setting the direction and prioritizing the effort and tasks with implementing a TCOE are challenging.
There are difficulties associated with provisioning the right skills nor overcoming the lack of communication.
The five-step process to implement (and in using the term "implement" I'm including design and develop) a testing center of excellence are:
Conduct a survey

Perform a "self-assessment" using a survey format to better understand how your organization is ensuring quality today. I have no doubt you'll be surprised. Things you want to be sure to do: focus on people, processes and technology; solidify objectives; identify all stakeholders; set or confirm budget (by budget we mean money, time and effort); and obtain executive management and stakeholder commitment.  The earlier you do that, the better.

Perform a detailed assessment

By "detailed" assessment I mean an analytical process performed to better understand where you are, where you want to get to and how to get there. It's focused on people, processes, the environment, solutions, challenges and objectives, and there is certainly value in having a third party, a neutral party, perform the assessment.

Design and build your Excellent TCoE!

Two things to be sure to do:

Put in place a leadership structure that includes an executive sponsor, a steering committee, IT and business subject matter experts, and champions & mentors.
Define the processes for continuous improvements, such as lessons-learned and best practices. You don't want to be repeating the same mistakes over and over and over again.
Start with a pilot project

It can absolutely be more than one. I recommend three. Prove & succeed. Do a lessons-learned for each one. Remember the engineering acronym, PDCA: plan, do, check and act!

Adopt the TCOE across the enterprise

In your adoption across the enterprise be sure to prioritize your projects and enforce It does you no good if you put this excellent testing center of excellence in place and your organization does not follow it. Communicate the capabilities, measure and track results, and be sure to share wins! That is a true morale booster.
Remember the five steps!  If you have any feedback, any questions, or any topics you'd like to see in future blogs or "Quality in a Quick" videos, please email me at bcrews@checkpointech.com.  I'm Bob Crews, President and Co-Founder of Checkpoint Technologies.
Thank you so much. Make it a great day!
Bob Crews
Email:  bcrews@checkpointech.com
LinkedIn:  www.linkedin.com/in/bob-crews-checkpointech
Please follow and like us: