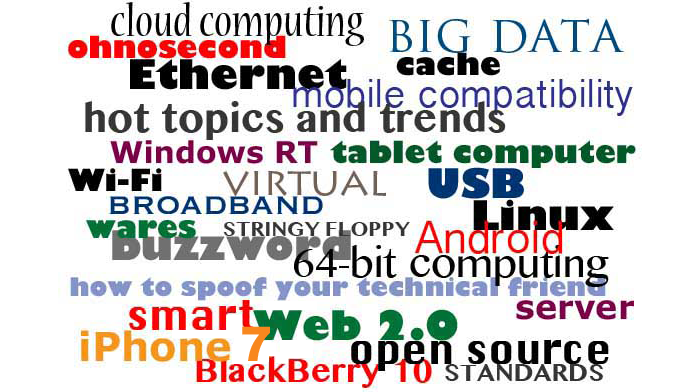 21 Jul

What is THAT Tech Terms Galore

Can we talk?

I don't know about you, but I hate not having a clue when it comes to IT matters. After all I'm an IT professional for crying out loud. The reality, though, is that IT is way too diverse to know everything about everything, or anything about some things for that matter. And it's not just IT folk who are at a disadvantage. It's all of us. If you're anything like me, have I got a resource to recommend! And it's FREE!

It's called the Computer Desktop Encyclopedia (CDE), and it's over at www.ComputerLanguage.com.

NOTE WELL: On the home page scroll down to below the colorful word cloud image, and you'll see the handy "Look Up a Tech Term" search box! 

Did you already go check it out? If so, welcome back. (What'd ya think? Sweet, huh!)

It's a great tool if you're unfamiliar with just about any IT term or concept. You know, like when you have to call Tech Support because your whatcha ma callit is broken, or you just a left a meeting or conversation and were like "What in the world is IoT anyway?"

Like a baby taking its first steps, you'll have the comfort of toddling around within the clearly written entries. If your interest or need is satisfied, then boo-yah, you're done. (By the way, don't get me wrong. It's neither childish nor simplistic.) Or once you have gotten a grip at CDE, you can move on to your other favorite resources for learning more.

So, try it out. Here are some fun terms to look up.
hamburger icon
brontobyte
cherry blossoming
Big Data
P.S. There's also an app for that. Search for CDE, "PCMAG.com encyclopedia", or Computer Desktop Encyclopedia wherever apps are sold.
Please follow and like us: