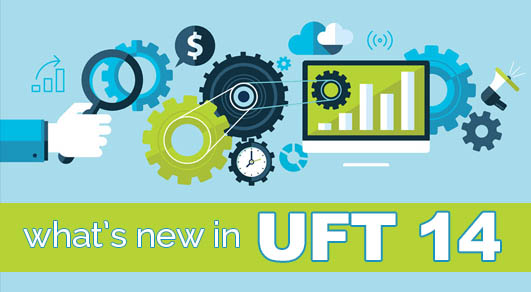 14 Mar

UFT 14 – What's New?

Demos:

Documents:

Webinar Recording:
What's New in UFT 14
---
It seems that everyone fears change, everyone except for Microfocus that is. With the release of UFT 14, some necessary and ultimately game-changing revisions are now available. There are several adjustments with this upgrade but the major keynote changes are going to be New UFT editions. UFT Pro (previously LeanFT) has 2 major enhancements. It's now a cross-platform solution and also includes UFT Pro for Selenium. Lastly, we'll touch on the new UFT Enterprise TCG (Test Combinations Generator) feature. Of course, there are other updates and features as well and you can read the full release notes here.
The new editions of UFT packaging have some of the most exciting possibilities yet. Version 14 introduces UFT Pro, UFT Enterprise, and UFT Ultimate licensing structures. UFT Pro, formerly LeanFT, has long been the angular automated software test solution. However folding it into the UFT family has brought renewed strength and reliability while providing greater brand recognition. UFT Enterprise which includes both UFT and UFT Pro now has added Sprinter to its arsenal giving it high-efficiency manual functional testing. Plus like everyone's favorite "F" word, it's FREE with a concurrent license. UFT Ultimate has enough tools to fulfill every QA Engineers imagination. The most extensive offering includes UFT Pro, UFT Enterprise, Sprinter, Business Process Testing, and Mobile Center, making it the complete bundle. License upgrade paths are established making it easy to move from one edition to another effortlessly.
A long-anticipated reality, UFT Pro now has cross-platform capabilities! It is now supported on multiple Linux versions and Mac OS systems for both, web and mobile testing. The ability to choose the language, IDE, unit-test framework, machine, and operating system is now in the hands of the engineer. Couple those options with the exclusive Application models, IDE project templates, new Object Identification Center, Parallel Execution, and Reporting and that's the ingredients for success.
Beefing up UFT Pro even more, included is UFT Pro for Selenium, a new solution that works on top of Selenium. The goal behind this solution is to increase productivity by helping you efficiently create robust and maintainable tests, run them, and easily analyze their run results. This is the first step Microfocus is taking to provide users with more test-driven capabilities on the way.
UFT Pro for Selenium includes the following:
A Java library that extends the WebDriver API with additional locators and utilities. Using this library you can create more robust/generic identifications for your objects, and use built-in utilities instead of implementing them at your end from scratch.
An IDE plugin (for Eclipse and IntelliJ) that provides you with:

IDE project templates for Selenium projects – Using these templates you can create projects that are ready for Selenium automation, in just a few clicks
An Object Identification Center – A powerful spying tool that enables you to efficiently build WebDriver-based object identifications, validate them, and generate the identification code easily;  reducing test creation time and improving test robustness.
Another much needed and useful enhancement in this version, is UFT Enterprise Test Combination Generation (TCG) tool. This tool enables users to easily work with test data, configuring and developing information that has a more desired data analysis. Combining paths, expressions, and algorithms, it allows you to create numerous data combinations, parameters, and possible values the TCG tool enables users to create plethora of test combinations and data, thus saving time and money.
With all the exciting changes occurring with UFT, Microfocus the industry leader in automated testing, is proving once again it is ahead of the curve to anticipate the needs and wants of the testing community.
Please follow and like us: